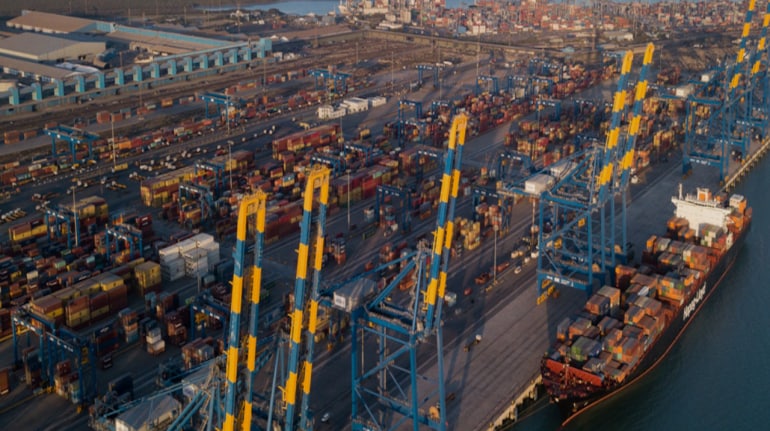 Adani Ports and Special Economic Zone (APSEZ) was second in the list of top 10 stock upgrades in February. In fact, the company was the only one on the list on which analysts were 100 percent optimistic in the last month with 'buy' calls at 21 and zero 'hold' or 'sell' calls.
Additionally, APSEZ also made it in the top 3 stock upgrades over the last quarter, again with analysts reposing 100 percent optimism.
Also Read: Analyst Call Tracker | With all buy calls, Adani Ports tops the 'Maximum Optimism' list
Despite the sell-off of Adani Group stocks triggered by a January 24, 2023 report by US-based short seller Hindenburg Research, APSEZ, the second largest in the Adani Group in terms of market share after Adani Enterprises, has gained 24 percent in the last 1 month with many investors and fund houses leveraging the sell-off to build positions in Adani Ports.
Aditya Birla, Mirae, SBI, DSP, HDFC, Kotak and Sundaram are just some of the big fund houses that were seen buying the dip in late January. According to ICICIDirect Data, mutual funds cumulatively bought 104 million shares of Adani Ports in January for Rs 6,355 crore.
Focus on deleveraging 
A decent performance that mostly met analyst expectations, the company's focus on deleveraging, and an overall strong balance sheet are the reasons why Adani Ports has remained in the good books of Investors and analysts alike.
In Q3 of FY23, the company reported an 18 percent increase in revenue from operations to Rs 4,786 crore against Rs 4,072 crore in the year-ago period. Its consolidated net profit declined 16 percent Year-on-Year to Rs 1,316 crore from Rs 1,567 crore in the December 2021 quarter.
The company mentioned that its top priority is to deleverage its balance sheet and repay/prepay loans worth Rs 5,000 crore in FY24. It is targeting a reduction in its debt-to-EBITDA ratio to 2.5 times by the end of FY24. EBITDA is short for Earnings Before Interest, Tax, Depreciation and Amortisation.
"Continuing with our growth journey, Adani Ports is targeting FY24 EBITDA of Rs 14,500-15,000 crore. Besides an estimated capital expenditure of INR 4,000-4,500 Cr, we are considering total loan repayment and prepayment of around Rs 5,000 crore which will significantly improve our net debt to EBITDA ratio and bring it closer to 2.5x by March 2024," said Karan Adani, Chief Executive Officer and Whole-Time Director of Adani Ports.
The company is the largest commercial port operator in India with a 25 percent share of port cargo movement and has embarked on becoming India's largest integrated transport utility company by 2030. It is strengthening its capabilities in all logistics segments namely ports, warehousing, last mile-delivery and Inland Container Depots. Adani Ports will be able to offer end-to-end services to its customers, capturing a higher wallet share and also making the cargo sticky in nature, ICICIDirect said.
Strong cash flow  
"Adani Ports is backed by strong FCF generating assets (14 ports, 81 trains, 9 MMLPs, 1.4 million square feet warehousing, 620 Km of rail tracks etc) with a 15 percent-plus RoCE. Further it has a comfortable debt to equity ratio close to 1," said ICICIdirect.
FCF is short for Free Cash Flow, MMLPs for Multi-Modal Logistic Parks and RoCE stands for Return on Capital Employed.
JM Finacial expects Adani Ports to remain the market leader in India with volume growth of 16 percent, translating into revenue/EBITDA/PAT growth of 15/15/13 percent compounded annually over FY23-25E.  PAT is short for Profit After Tax.
"Adani Ports may generate cumulative operating cash flow of Rs 26,100 crore in FY24-25 with a capital expenditure of Rs 12,000 crore, resulting in Rs 14,000 crore of free cash flow, substantially higher than its debt-repayment obligations of Rs 11,000 crore," it said.
Goldman Sachs also said the company's numbers for the third quarter were in line with expectations and the near-term focus on deleveraging was a positive sign.
Recently, the company reported a 10 percent YoY increase in cargo volumes for February to 26.5 MMT (million metric tonnes) while for the nine months from April 2022 to February 2023, the increase was 8.5 percent to 307 MMT.
Last week, Adani Ports incorporated its HM Agri Logistics, to develop and operate state-of-the-art silo complexes across India.
"The subsidiary is for the purpose of development, design, construction, financing, procurement, engineering, operation and maintenance of silo complexes (Spoke Silo Complex) without container depot on design, build, finance, own and operate basis under PPP mode at various locations across India," according to the company.
PPP stands for Public-Private Partnership.
On March 6, the stock closed 0.49 percent higher on the NSE at Rs 688.