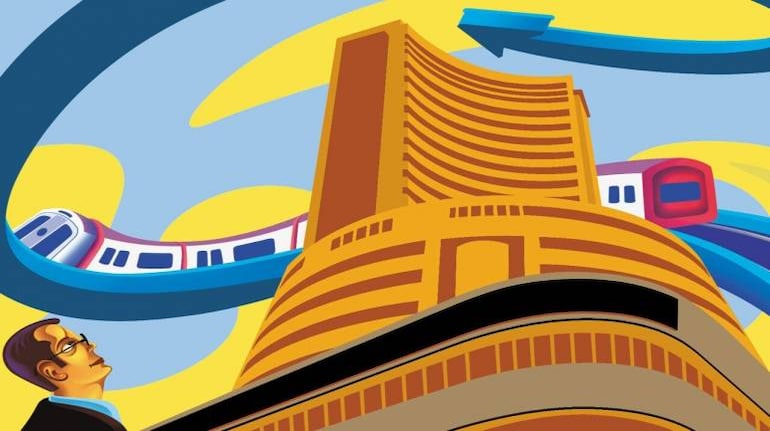 Although new investors are hesitant to enter the equity markets, there has been an increase in retail participation through Systematic Investment Plans.
Retail investors were averse to investing in Indian equity markets last month because of unappealing returns, leading to a slowdown in the number of demat accounts opened in February, which hit a three-month low, despite the easing of the account opening process.
According to data from Central Depository Service and National Securities Depository, the number of demat accounts opened in February 2023 was over 2.08 million, which marks the slowest account opening rate since November 2022, representing a 5 percent decline from the previous month. The total demat tally crossed 112.54 million, up just 1.88 percent from a month ago and a 30 percent jump from a year ago.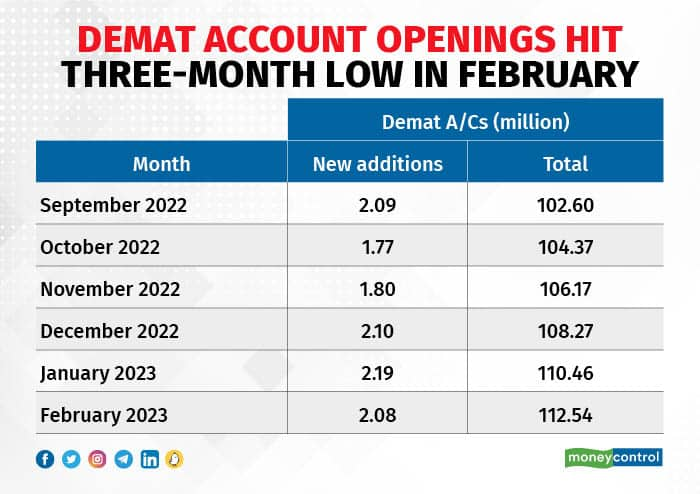 "There is a clear trend of decline in the rate of growth of demat accounts. Also the NSE (National Stock Exchange) has recently reported a decline in active accounts. This is primarily due to the poor returns from the market and good returns from fixed income investment caused by rising interest rates," said Dr VK Vijayakumar, Chief Investment Strategist at Geojit Financial Services.
Both large and mid-cap stocks have delivered lacklustre returns over the past six months, owing to factors such as rising interest rates in the face of higher inflation, global instability and so on.  Consequently, retail investors are feeling uneasy at present. Since November 2022 till date, the benchmark Sensex and Nifty have declined 0.9 percent and 1.7 percent while the BSE Midcap and Smallcap have lost 2.3 percent and 2.5 percent, respectively.
Investors favour SIPs
According to Ruchit Jain, the Lead Researcher at 5paisa.com, although new investors are hesitant to enter the equity markets, there has been an increase in retail participation through Systematic Investment Plans (SIPs) offered by mutual funds.
As a result, it appears that retail confidence in equities remains intact from a long-term standpoint, but investors are exercising caution when investing directly. Monthly SIPs, which crossed Rs 13,850 crore in January, show a healthy trend.
Investors are becoming increasingly concerned about the Federal Reserve's expected continuation of hiking interest rates, especially in light of higher inflation expectations.
Moreover, meteorologists are warning of the possibility of the El Nino weather phenomenon in 2023, which could hurt monsoon rainfall, depress domestic demand and impair corporate earnings growth.  Additionally, the oil market's tight demand-supply balance poses a risk to energy inflation.
Monetary policy tightening
"It appears that the equity markets have underestimated the interest rate risk for the fourth time as they try to anticipate a potential shift in the Fed's rates," Kotak Institutional Equities said in a recent note.
Analysts believe that the strong inflation data increases the possibility of additional policy tightening in the US, which may also lead to an increase in policy rates in India, particularly due to the upward risks of food and fuel inflation. If interest rates remain elevated for an extended period, Indian markets, particularly growth stocks, may experience a further decline in valuations, analysts added.
According to Deepak Jasani, Head of Retail Research at HDFC Securities, the addition to demat accounts has decreased, but remains positive. He believes that this should be seen in the context of volatile markets, a lack of attractively priced large Initial Public Offerings, and subdued returns for investors who have opened accounts in recent quarters.
"Tightening of the margin system over time has reduced opportunities for traders with low surplus. As discount brokers have been aggressive over the past few years, the catchment of investors who can now be lured to open accounts with them has fallen. The Information Technology sector, from where many new accounts were being opened year after year, is facing another bout of uncertainty for employees who are confronting job losses," Jasani added.