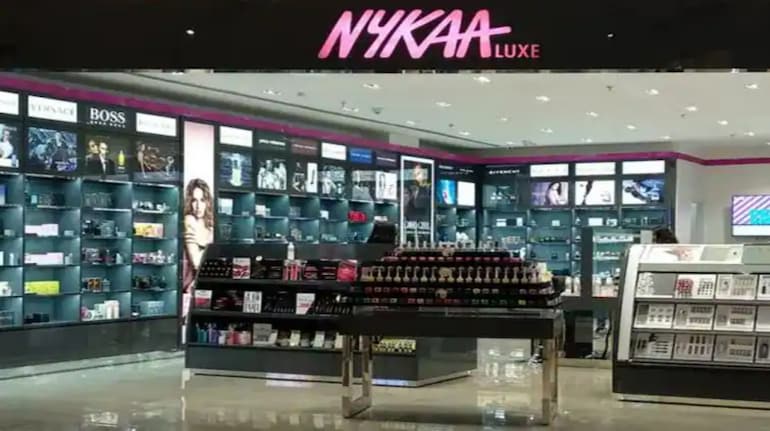 FSN E-Commerce Ventures
Foreign brokerage firm Macquarie initiated coverage on the BPC (Beauty and Personal Care) platform, Nykaa with an 'underperform' (sell) rating at a target price (TP) of Rs 115 per share, the lowest amongst brokerages. The TP denotes a downside of over 23 percent over Nykaa's closing price of Rs 150 as of March 3, 2023.
The brokerage said the company faces a risk to its beauty segment margin as growth is now moving towards smaller towns and the offline segment. It added that the entry of new players like Reliance Retail (Tira) and Tata Cliq could exacerbate the problems for Nykaa at a time when competition in the segment is already tough.
"With larger D2C brands increasingly looking to move offline and customers demanding more physical stores to experience products, we believe Nykaa would need to reinvest leverage gains to sustain growth," it said.
Macquarie also sees a difficult path to profitability with Nykaa entering the business of serving small mom-and-pop stores, and hence competing with a well-oiled distribution network that comes with a very thin margin.
On Nykaa's nascent fashion segment, the brokerage said "We remain concerned about Nykaa's ability to profitably grow in the fashion segment where the company offers a curated marketplace of third-party / newly developed own apparel brands. An analysis of offline retailers indicates that players using a curation-led approach with third-party brands have seen limited success."
"Limited operating history and need for growth investments make us cautious on EPS (Earnings per share)," it said.
Nykaa's Q3FY23 performance had also disappointed the Street with the company reporting a 71 percent YoY decline in net profit at Rs 9 crore against Rs 29 crore reported a year ago. Revenue from operations grew 33 percent at Rs 1,463 crore. EBITDA (Earnings, before Interest and Tax) increased by 13 percent YoY to Rs 78 crore however EBITDA Margin fell yearly from 6.3% to 5.3%. The BPC GMV also grew at a lower than expected rate of 26 percent YoY to Rs 1902 crore due to a high base, weak macro economy and a shift in the festive season as per the management while Fashion recovered with its GMV growing 50 percent YoY to Rs 724 crore.
As per Bloomberg Data, Nykaa currently has 16 Buy, 2 hold and 2 sell calls while the 12-month consensus target price stands at Rs 201 per share.
Share price of Nykaa is down 34 percent in the last 6 months while gaining 7 percent in the last Month. At 9.56 a.m., the scrip was trading 2 percent lower on the NSE at Rs 147.30 apiece.