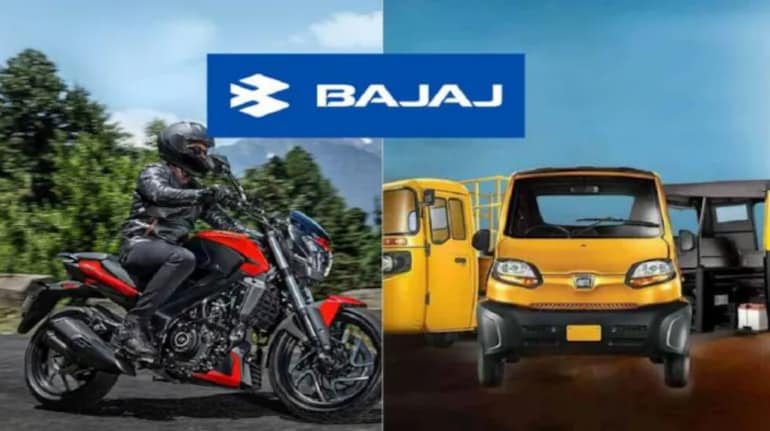 Bajaj Auto's Q3FY23 performance exceeded street expectations, with net profit increasing 23 percent YoY to Rs 1,491 crore, and net operating income growing 3.3 percent YoY to Rs 9,319 crore
stock widget
stock widget
Vehicle manufacturer Bajaj Auto has been the top Nifty gainer, up 1.26 percent or Rs 46.95 to Rs 3,770 at 9.50 am on March 8, after financial services company JP Morgan said it is 'overweight' on the stock.
On the BSE, Bajaj Auto was up 1.03 percent or Rs 38.50 to Rs 3,762.35 at 9.35 am. In the previous trading session, the share closed down 0.27 percent or Rs 10.00 at Rs 3,723.85.
Follow our Markets LIVE blog here
'Attractive risk-reward'
JP Morgan said it is 'overweight' on Bajaj Auto with a target price of Rs 4,400/share. It further said that the stock could potentially re-rate in 2023 as the company becomes more aggressive on electric vehicles (EVs).
The investment bank pointed to a likely bottoming of exports dip and potential recovery in the second quarter. The auto major's two and three-wheeler exports have slipped 27 percent year-to-date (YTD).
It added that valuations pose an "attractive risk-reward" and that the stock's margin may see an uptick due to domestic volumes with a better mix.
Also Read | Analyst Call tracker: Why has Bajaj Auto remained a street favourite this quarter despite export pressures?
Analysts' view
Bajaj Auto's Q3FY23 performance exceeded street expectations, with its net profit increasing 23 percent YoY to Rs 1,491 crore, while its net operating income grew 3.3 percent YoY to Rs 9,319 crore. Earnings before interest, taxes, depreciation and amortisation (EBITDA) for the quarter also improved by 28.2 percent YoY to Rs 1,757 crore.
"The domestic business saw sustained double-digit revenue growth across both, two-wheelers (2W) and three-wheelers (3W). The two-wheeler performance was buoyed particularly by solid 1,25cc+ festive season sales, while three-wheeler volumes surged, leading to its record high market share," the company said in an exchange filing.
The company gained 2 percent market share in the 1,25cc+ segment in 3QFY23. It is looking to introduce new models and expand platforms for offering a range of choices for customers in the segment.
While exports have been under pressure for a few months now and shipments fell 39 percent year-on-year in December 2022, 47 percent in January 2023 and 38 percent in February 2023. The Street, however, feels that production cuts are 'already factored in' and are 'rational'.