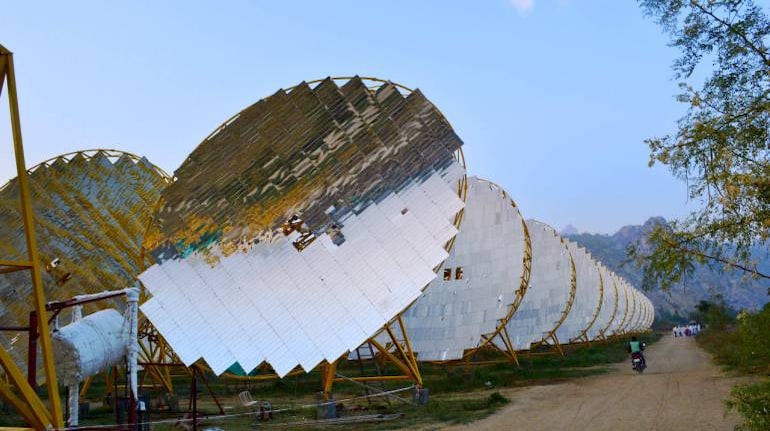 A strong focus on green energy is expected in Budget 2023. (Photo via Wikimedia Commons)
Shares of KPI Green Energy surged 4 percent on March 8 after the company announced that it has signed a power purchase agreement with Jamnagar Air Force Station.
At 9:34am, shares of the company traded 3.9 percent higher at Rs 449.9 on the BSE.
KPI Green Energy has signed a Hybrid Power Purchase Agreement of 20 years for 1.845 MWAc capacity with Garrison Engineer, Military Engineer Services, Air Force Station, Jamnagar, under Independent Power Producer (IPP) segment.
Catch up on all LIVE stock market updates here
The company's revenue from operations in the third quarter stood at Rs 179.21 crore as against last year's Rs 62.20 crore. Profit after tax climbed to Rs 34.46 crore in the reporting quarter over Rs 13.14 crore a year ago.
KPI Green Energy is the leader in solar energy under third-party sale business in Gujarat. The company develops and maintains grid-connected IPP solar power projects under the 'Solarism' brand. It generates revenue by supplying the power, generated from our solar power plants to reputed business houses through Power Purchase Agreements.
The Solarism plant is located at more than 17 locations at Bharuch district, Gujarat. It has also established 66 KV and 11 KV transmission lines for evacuation of the solar power generated from its solar plants to the Gujarat Energy Transmission Corp substations located nearby its solar plants.
"We have already started to set up, own, and operate hybrid renewable energy projects, by adding the same in our own power generating asset portfolio, to generate power and sell it to our corporate customers," the company had said in its latest investor presentation after the government announced a hybrid power policy and the Gujarat Electricity Regulatory Commission's lucrative tariff order.
Besides, in the recent Union Budget, the government announced a slew of measures to facilitate a steady transition of the Indian economy to one powered by green energy.
Finance Minister Nirmala Sitharaman has announced a budgetary allocation of Rs 10,222 crore to the Ministry of New and Renewable Energy, a 45 percent increase from Rs 7,033 crore expected to be spent this fiscal year. KPI Green Energy appears to be a beneficiary of the government's focus on clean energy transition.