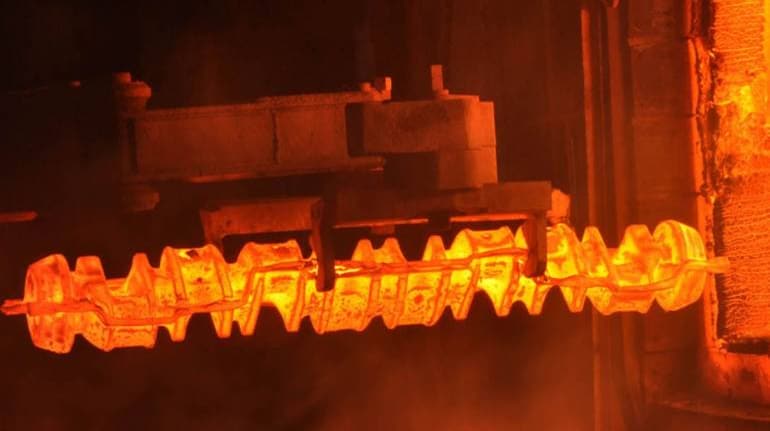 Bharat Forge: Bharat Forge to start E-bike manufacturing facility via subsidiary Kalyani Powertrain, in Pune. The leading forging company has announced its E-bike manufacturing facility at MIDC Chakan, Pune, through its wholly owned subsidiary Kalyani Powertrain. The facility has a production capacity of 60,000 units per annum and scalable to 1 lakh units per annum, will undertake assembly of E-bikes for Tork Motors, wherein 64.29% owned by Kalyani Powertrain.
stock widget
stock widget
Shares of Bharat Forge edged up over 1 percent on March 9, a day after the company announced that its e-mobility subsidiary, Kalyani Powertrain Ltd, inaugurated its first e-bike manufacturing facility at MIDC Chakan.
"The facility has a production capacity of 60,000 units per annum and scalable to 100,000 units per annum, will undertake the assembly of e-bikes for Tork Motors Private Limited, 64.29 percent owned by Kalyani Powertrain Limited," Bharat Forge said in an exchange filing.
Jinesh Gandhi, Deputy Head of Research & Auto Analyst, Institutional Equities, Motilal Oswal Financial Services said this capacity is for Tork Motors (60 percent subsidiary) and revenues will reflect in the subsidiary accounts.
He added, "At 60,000 annual capacity, based on the current product & pricing of Tork, it has potential to generate revenues of over Rs 1,000 crore per annum for Tork Motorcycle".
At 9:16am, shares of the company were trading 1.2 percent higher at Rs 844.15 on the BSE. The stock has come down to Rs 834.55 level from Rs 908.65 in December 2022. The scrip has risen 32 percent in a year.
Analysts have highlighted that the ramping up of Electric Vehicle (EV) and defence businesses are some of the key levers of growth for the company in the next couple of years.
Catch up on all LIVE stock market updates here
Geojit Financial Services highlighted its two and three wheeler EV associate Tork Motors has received Faster Adoption and Manufacturing of Electric and Hybrid Vehicles (FAME-II) scheme approvals.
Some companies have been accused of claiming government benefits without meeting the mandatory 50 percent local sourcing rule. Some two-wheeler manufacturers were claiming FAME without actually having indigenous content, which made the whole scrutiny process much time taking.
The Centre's flagship EV promotion scheme-FAME-II-has so far disbursed subsidies to around 80 percent electric two-wheelers of the set target under the scheme. The Centre has set an outlay of Rs 10,000 crore for a period of three years starting April 1, 2019. This includes demand incentives to support a number of EVs, including 100,000 electric two-wheelers.
The government provides an incentive of Rs 15,000 per kWh on electric two-wheelers, capped at 40 percent of the total vehicle cost, provided they meet specified localisation criteria.
The company has also won orders for developing components for electric Commercial Vehicles in the light truck segment and system electronics for industrials, the brokerage firm had highlighted.
Geojit Financial Services expects the incremental revenue from new business and products to grow at double-digit in the next two years due to pick up in infrastructure projects, defence order and roadmap for EV. "We expect meaningful recovery in the overall business and factor consolidated earnings growth of 50 percent YoY CAGR (Compounded Annual Growth Rate) over FY23-25," it added.