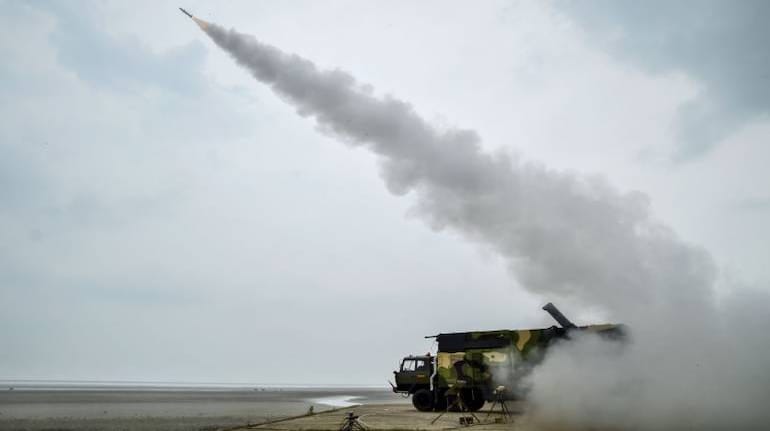 Representative Image
Shares of defence equipment manufacturers jumped reacting to the news that the Defence Acquisition Council accorded Acceptance of Necessity to projects worth Rs 70,500 crore.
Major military modernisation projects amounting to Rs 70,584 crore, including 69 maritime helicopters, 225 BrahMos supersonic cruise missiles, and 307 heavy-duty artillery guns, received preliminary approval from the defence ministry on Thursday.
Also read: From BrahMos to ALH MK-III, Defence Ministry clears its Rs 70,000 crore purchase list; HAL bags big orders
The largest proposal approved was for 60 utility helicopters-marine being constructed by Hindustan Aeronautics Ltd (HAL), costing Rs 32,000 crore. Reacting to this, HAL's stock shot up 4.5 percent on the BSE, to Rs 2,847.
Meanwhile, the DAC gave a nod for the purchase of 307 ATAGS worth Rs 8,526 crore. This will be the first order for the domestic 155mm/52 calibre ATAGS, whose production partners are Bharat Forge and Tata Advanced Systems.
Catch up on all LIVE stock market updates here
Morgan Stanley which has an 'overweight' rating on Bharat Forge's stock highlighted that the order is likely to be split between Bharat Forge and Tata Advanced Systems and the actual order could come through in four to five months.
The foreign brokerage firm has a target price of Rs 1,068. With the new order win, the defence company's scrip rose more than four percent to touch a high of Rs 822.55.
Shares of Bharat Dynamics, Bharat Electronics, MTAR Technologies, Paras Defence and Space Technologies were up 1-3 percent on the BSE. Larsen & Toubro (L&T) also rose 2 percent.
Andrew Freris of Ecognosis Advisory, told The Economic Times that he believes defence stocks are the relatively safest investments at this point in time. He added that not all defence companies are good to invest in but as a sector, it has a huge, shining future in front of it.
But he highlighted that the main clients of defence companies are governments which are interest rate inelastic. In other words, increases in interest rates do not bother them.
Freris explained that "Very few companies will say that my clients are not affected by increases in interest rates. The companies themselves might be affected but defence companies are the only ones whose clients are interest rates insensitive".
Rather, several market experts back at home have expressed concerns over public defence companies being a risky bet as it creates an overhang of stuck payments.
Wealth managers said there is a fear of long-pending receivables as most of the clients of these PSU defence companies are the central government and state-owned agencies. Plus, corporate governance issues in the case of state-run defence companies are another challenge that the fund managers highlighted.