WASHINGTON — It was yet another fraught moment in a tumultuous relationship, and it didn't end well.
Senior Biden administration officials were heading to Mexico City this month for pre-arranged talks about the fentanyl crisis as the news unfolded that drug cartel gunmen had kidnapped four Americans in Mexico, two of whom were shot dead.
But after Mexican officials quickly found and retrieved the surviving Americans — with U.S. help — the Biden officials were hopeful they could still emerge from the fentanyl meeting with something good to announce.
It wasn't to be. Even before the talks began, Mexico's president upended them. Andrés Manuel López Obrador stood before television cameras to proclaim that fentanyl is America's problem and falsely stated that none of the dangerous drug is produced in Mexico.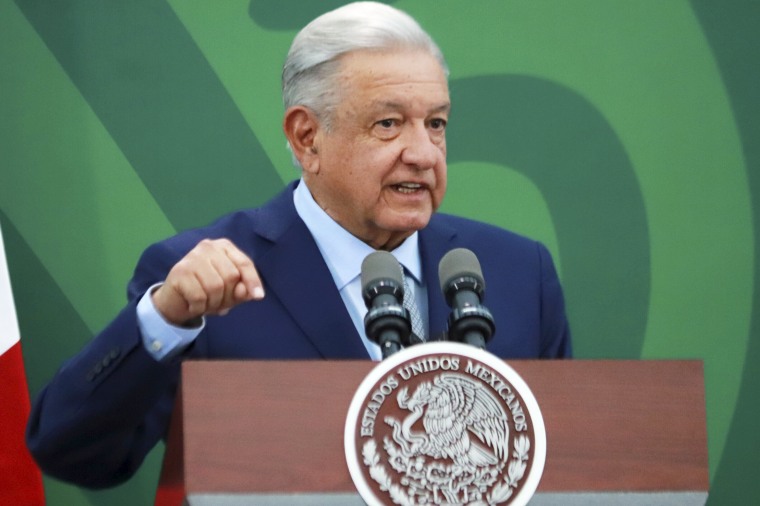 Current and former U.S. officials say the bizarre episode is symptomatic of just how badly the relationship between the two countries has deteriorated in what used to be called the drug war — at the precise moment when joint action is most needed.
"There's really been minimal to nonexistent law enforcement cooperation," said Vanda Felbab-Brown, a drug-trafficking expert and senior fellow at the Brookings Institution. "The Mexican government has not been allowing joint raids or even observation by U.S. law enforcement. Now this blatantly false statement by [Mexico's] president."
Matthew Donahue, who retired last year after three decades with the Drug Enforcement Administration, agreed that cooperation was "nonexistent" and added that the biggest problem is corruption in Mexico "and how it has infiltrated many levels of their government."
"This is the worst it has ever been in Mexico," he said. "What is frustrating is that we know where the traffickers are," but the U.S. government has been unable to persuade Mexico to act, "so all that operational intelligence gathering is wasted."
Andrew Rudman, the director of the Mexico Institute at the Wilson Center, a public policy think tank, said: "If you can't cooperate with Mexico, you're not going to solve this problem — there's just no way. It really does call into question how much cooperation can really take place in the next two years if every step forward is met with a step backward." 
The U.S. delegation to Mexico, including Deputy Attorney General Lisa Monaco and White House homeland security adviser Liz Sherwood-Randall, quietly flew home after the talks and issued bland statements on paper, steadfastly refusing to comment on López Obrador's remarks. No announcement of substance was made.
Mexico's Foreign Affairs Ministry said Thursday on Twitter that its government "is not only dedicating resources, dozens of Mexican security forces' lives have been lost in the fight against fentanyl. … We are not saying we will stop Mexico's cooperation. We are not saying we will not go forward. No, the Mexican government is saying we will strengthen our cooperation … but we will not do it under disrespect of saying that we are not doing anything."
In a statement after the trip expressing sentiments not shared by any former official or expert consulted by NBC News, National Security Council spokeswoman Adrienne Watson said, "We have robust law enforcement cooperation with Mexico, which has enabled us to take successful action against cartels, transnational criminal organizations, drug traffickers and human smugglers, and that will continue."
Donahue, who spent two years in Mexico City and went on to become the DEA's deputy chief of operations, said, "I would not call their almost complete lack of cooperation on the counternarcotic efforts 'robust.'" 
After Watson's statement was issued, a senior Biden administration official acknowledged to NBC News that "we need to be doing a lot more on the law enforcement side" but added, "We've found that we make a lot more progress by having the candid discussions in private rather than wagging our fingers in public."
The official said the Biden administration has made progress after it inherited a "completely broken" law enforcement relationship in January 2021.
"I give them a 'B-plus' for effort and a 'D' for results, said John Feeley, a former senior State Department official who spent decades focusing on counternarcotics in Latin America in administrations of both parties.
A decadeslong problem
The multibillion-dollar trade in illegal drugs has long been a festering sore on the North American continent. U.S. demand for cocaine, methamphetamine and heroin fuels vicious, well-funded criminal organizations that thrive in a Mexico rife with corruption and lawlessness. The cartels use their riches to buy American weapons and bribe U.S. officials. U.S. politicians denounce the cartels while saying little about where their money comes from.