Kylie Jenner covers
Today, Thakoon Panichgul's biannual fashion tome released the first of its Volume 9 covers, featuring Kylie Jenner. The reality starlet turned cosmetics mogul was photographed by Ilya Lipkin and styled in an array of body-snatching Mugler, Saint Laurent, Sarah Aphrodite, and Dilara Findikoglu by the publication's fashion director Stella Greenspan. Inside the mag, the 25-year-old opens up to Nicolaia Rips about parenting, rebelling, and her approach to beauty. On how her attitude towards aesthetics has evolved since welcoming her two children, she says: "Oh, it's changed so much. It's made me love myself more. I see my features in my daughter and my son now, but you know, my daughter looks like me. I get to see my beauty in her, and it's made me love myself more for sure. Beauty is always changing for me." Jenner also broaches the subject of cosmetic enhancements, saying: "I think a big misconception about me is that I've had so much surgery on my face and that I was some insecure person, and I really wasn't! Yeah, I love full lips and wanted full lips, but growing up I was always the most confident person in the room. I was the girl performing for everyone. I had my one lip insecurity thing, so I got lip filler, and it was the best thing I've ever done. I don't regret it. But I always thought I was cute." Jenner is the first of five cover stars for Volume 9, with additional issues featuring Kiko Mizuhara, Paloma Elsesser, Alek Wek, and Emily Ratajkowski. hits newsstands on May 4.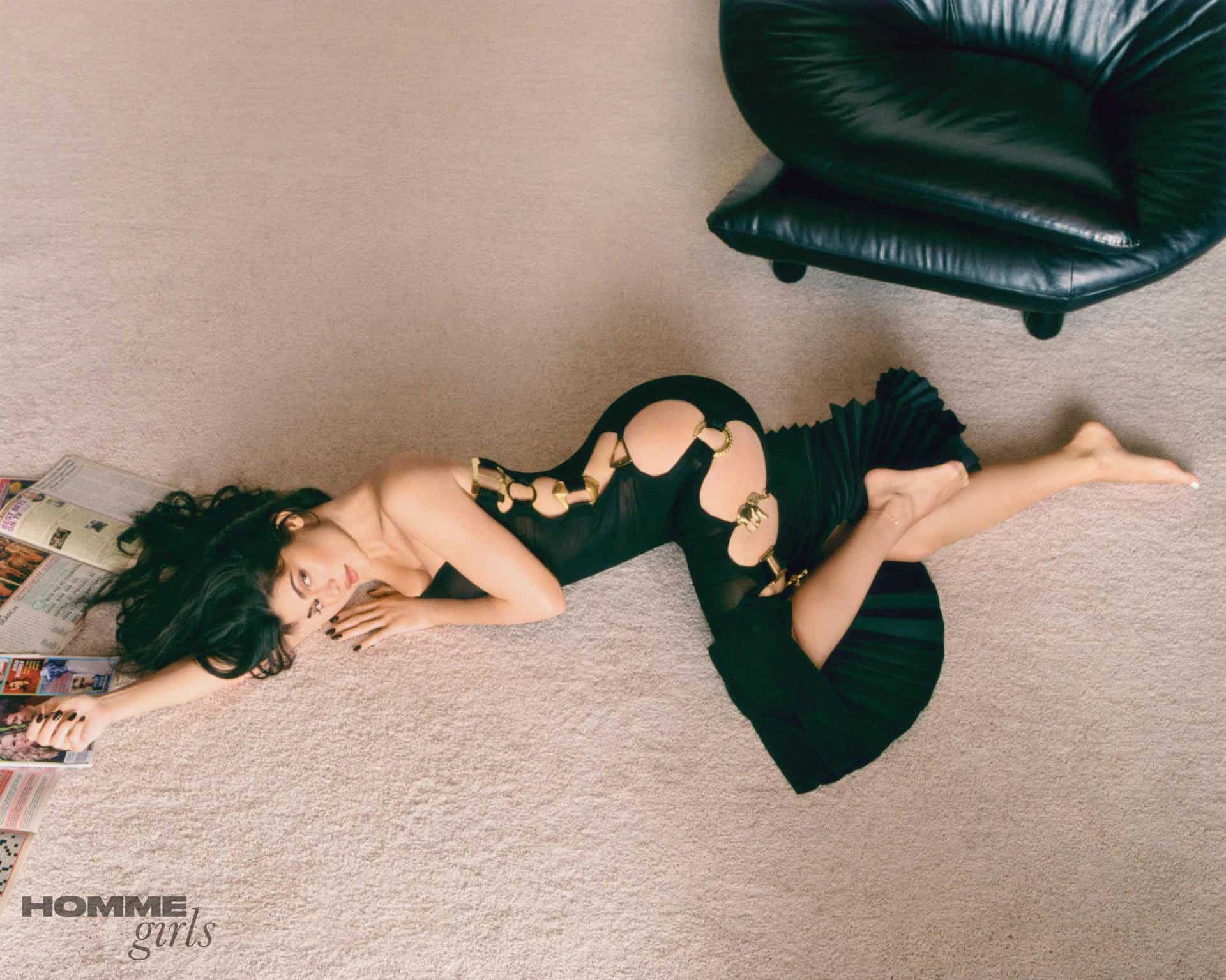 Kylie Jenner (Ilya Lipkin)
Kylie Jenner (Ilya Lipkin)
Megan Thee Stallion opens up about shooting incident for the first time, as she covers
Chart sensation Megan Thee Stallion is laying all her cards down. The rapper spoke candidly to about the trauma of being shot by her then-close friend, the rapper Tory Lanez, in July 2020, and the even more damaging experience of being tried by the media over the incident (Lanez was ultimately found guilty on three counts in December 2022). "For years, my attacker laughed and joked about my trauma. For years, my attacker peddled false narratives about what happened on the night… For years, my attacker tried to leverage social media to take away my power. Imagine how it feels to be called a liar every day? Especially from a person who was once part of your inner circle," she writes in a personal essay for the publication's May 2023 issue. The performer, whose real name is Megan Pete, says that time off social media, journaling, praying, being with her dog, and surrounding herself with friends has helped as she began to suffer bouts of depression over the publicity surrounding the attack. The 28-year-old also thanked her devout fans, whom she calls her 'hotties' for being there for her. "To all the Hotties, please know I am so incredibly grateful for you. You don't even know all the little things that you've done to make me feel uplifted and inspired over the years. Some of my Hotties even showed up to court, and it touched my soul. I also want to express my sincere gratitude to all the women who rallied around me, used their voices, and penned an open letter of support on my behalf." For the accompanying editorial, she was styled by Law Roach in pieces by Alaïa, Loewe, Ferragamo, and Michael Kors Collection, as well as jewelry by Tiffany & Co. and Cartier. Read the full feature, with imagery by Adrienne Raquel, here.




Alberta Ferretti is heading to Rimini for Resort '24 show next month
On May 26, Alberta Ferretti will stage her Resort 2024 show at Castel Sismondo in Rimini, paying tribute to legendary and influential filmmaker Federico Fellini in the process. Rimini, a postcard-worthy coastal city in Italy's Emilia-Romagna region, happens to be the birthplace of both the designer and Fellini. The upcoming show, a love letter to the surrounding area, will be made possible through partnerships between the luxury fashion brand and a series of institutions, including the Ministry of Tourism, the Ministry of Culture together with Cinecittà, the Emilia-Romagna Region, the Municipality of Rimini and the Convention Bureau Italia. According to the brand, it's been a long time coming too, as the endeavor was originally planned years ago. "I'm very excited to announce this event," Ferretti said. "We had planned to celebrate the Romagna region and Federico Fellini during the centenary of his birth, in 2020, but the pandemic that hit the world drastically changed our plans. But now we are finally ready to tackle this project with great enthusiasm." A nod to the golden age of Italian cinema via one of the nation's chicest brands? Grab the popcorn—we'll be ready to take it all in.
Alberta Ferretti
Castel Sismondo
Aliza Licht's is officially available now—and it's already a best-seller
Despite only landing today, marketing maestro Aliza Licht's latest book, , is already ranked as a #1 best-seller in Amazon's Women & Business/Web Marketing categories and #2 in Job Hunting & Career Guides. Delving into the concept of personal branding and what it means, industry veteran Licht says the book is a guide for everyone in every industry, no matter what career level they're at, who's hoping to enhance their personal identity and reputation. "Having a personal brand secures your professional longevity because what you do today may not be what you do tomorrow," Licht explains. "Waiting for people to notice you're good at what you do is not a strategy. In the hybrid and often virtual world we now work in, people need to be able to convey who they are no matter what the medium. Gone are the days of hoping your credentials speak for themselves. We communicate nonstop in obvious and subtle ways, so getting your message right is paramount to success. Standing out in a sea of competition and becoming known for what you do best are the by-products of well-crafted communication and repetition." Order your copy now here.
MAGIC Nashville returns next week
Informa Markets Fashion has announced that MAGIC Nashville will take place in Music City from April 26-27. The second annual installment of the wholesale fashion event promises two full days of fashion, music, and immersive activations as well as engaging event programing. Following the success of the inaugural MAGIC Nashville, this time around, the offering has doubled in size, adding over 200 new to show brands—including a 91% increase in women-owned collections—bringing the assortment to a total of 430+ labels. Plus! Country music star and author Jessie James Decker and Rachel McCord will also host a panel in which Decker shares her thoughts on launching a business (4/26 at 1PM). Register your interest and find out more here.